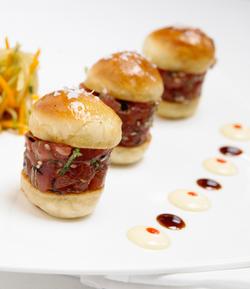 "You know what I'm so sick of?" tweeted
Bon Appétit editor-in-chief
Adam Rapoport earlier this month. "Sliders."
Ouch, I thought. Not a great PR moment for the
miniburger. But thinking back, I can recall several occasions on which
an influential
food-world person expressed disdain for very small
sandwiches–a once seemingly trendy snack item that has demonstrated
surprising
staying power over the past few years. (I like to compare them
to cargo pants: Just when you think they're on the outs–bam!–some
Fashion Week model saunters down the runway with pockets
jutting out at her knees.)
Intrigued, I started asking some of the foodie types I
know what the problem was. The words "bad value" came up a lot–sliders
may seem inexpensive, but ounce for ounce, the argument went,
you're paying through the nose for that hit of juicy beef. The
sheer ubiquity seemed to bother a lot of people–from the
catering world to bar menus in chains and neighborhood bistros alike,
some foodies see baby burgs as a lazy fallback when something
more creative was called for.
But the anti-slider argument I've heard the most is
that sliders simply aren't tasty. Fresh buns are a rarity, meat tends
to be dry . . . they're just not good. As when you see the word
"gyoza" on a mid-priced, contemporary-American bar menu and know those dumplings
likely came straight from the Sysco truck, the word "slider"
can also indicate something slapdash and industrial, a
throwaway item designed to distract you from the cost of your cocktail.
But for every rule, an exception, and in this case five. Here, a
list of sliders that show a small sandwich can be a thing
of beauty. Even if it's not that cool anymore.
1) Prime Beef Sliders at the Source Lounge
The
izakaya menu at the Source offers several fairly delectable miniature sandwiches–it's easy to overlook the prime beef sliders and
opt for mini
bánh mì or tender pork belly tucked into a
bao bun. Really, you can't go wrong, but the beefwich–with Maryland cheddar and smoked onion marmalade–is unlikely to disappoint.
When these little guys first arrived on the scene, a
brioche bun was a relatively rare thing, as was a slider made with so
much attention to texture and flavor combos: snappy pickles,
buttery bread, Gouda cheese. The ingredients added up to an
expectation-defying
bar snack that's become a classic.
3)

Ibérico de bellota

mini hamburguesas at Jaleo
Jaleo's hamburguesas are stuffed with a pork patty made with
Ibérico de bellota, among the world's best pig products. It's kind of a perfect tapa, too–a full burger would be overkill for most of us, but
a little one offers the opportunity to sample the legendary Spanish pork without breaking the bank (or the scale).
4) Little Burgers at Eatbar
On my first trip to Eatbar–the casual Arlington
eatery adjacent to
Tallula–I
was most excited about the Little Pork Burger topped with
celery root slaw and red chilies. But while that sandwich was a
little dry and underseasoned, my tablemates and I almost got
into a scuffle over the juicy Little Burgers, perked up with
balsamic onions and a rich truffle aïoli.
5) Tuna sliders at PS 7's
I left these for last so I could peace out before
getting into an argument about what "slider" even means. Does it have to be a burger? Is it just any small sandwich? Semantics aside, these are genius: A sesame-seed bun helps turn tuna tartare into finger food–white
miso aïoli and cucumber-cilantro slaw lend fat, pep, and crunch. And when I called PS 7's to make sure they would be remaining on the menu, the staffer on the other end of the phone let out a deep chuckle. "Oh," she said. "Very much so."