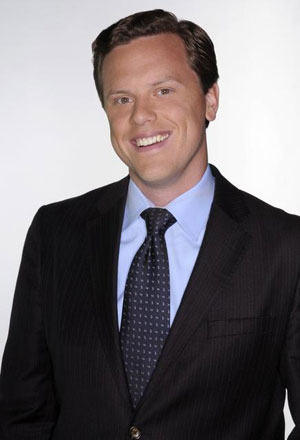 NBC's
Willie Geist woke up way too early Wednesday to host his MSNBC show,
Way Too Early, cohost the later
Morning Joe, travel to Washington, make an appearance
at an event at the Ritz-Carlton in Georgetown, and then take his wife,
Christina,
his high school sweetheart, to Cafe Milano to celebrate their
ninth wedding anniversary. In other words, Geist was up way
past his bedtime.
The event at the Ritz was an interview with me for
The Q&A Cafe, which will air on channel 16 on
Friday. Geist had the audience, most of them invited guests of the Ritz,
laughing throughout
the wide-ranging 45-minute interview. While we talked, Geist
sipped a bourbon and ginger, noting that this was only the third
TV program that had served him alcohol, the other two being
Andy Cohen's
Watch What Happens Live and NBC's
Today show with
Kathie Lee and
Hoda. He said he hopes someday to have his own broadcast that airs at an hour appropriate for cocktails. For now, he's a morning
man.
"It's amazing to think how five seconds changed my life," he said, recalling the 2007 firing of
Don Imus that created a three-hour void in the
MSNBC morning schedule. While on the air, Imus made racist remarks
about the Rutgers
University women's basketball team, and he was a goner. Geist
said the network executives had no plan, were mired in chaos,
and had to come up with something. "If you were caught walking
in the hall it was, 'You—you're on the show.' 'What are we
talking about?' 'I don't know. Get in there.'" Three people
who'd been doing random shows and who were not well acquainted
were thrown together: Geist,
Joe Scarborough, and
Mika Brzezinski. The rest is morning-cable-TV history.
Geist said the secret of
Morning Joe is that "it's not really a format. All you see on the air is real." As for the dynamic between him and his cohosts, he said,
"I'm the son, and
Mike Barnicle's the weird sort of uncle." I compared the regular but rotating roster of guests to a dinner party at
Tina Brown's, and Geist laughed. "And Tina Brown's often at the table dominating the conversation!" Knowing that most viewers watch
while eating their first meal of the day, he said he likes to think they give the audience a "fantasy breakfast."
But the hours are grueling, especially with two young
children at home. Bedtime is 10, though he says, "I should go to bed
at 8:30." He's up at 3:30 AM and dresses in the dark, having
laid out his clothes the night before. It doesn't always work
out. One time he got into the elevator and realized he had put
on a tuxedo. He wondered for a moment whether he should just
"go for it" and appear on the air at 5:30 AM in formal dress,
but then returned to his apartment to change.
Geist was practically born into his career. His father is
Bill Geist, a regular on
CBS Sunday Morning. Willie was born in Illinois, but when he was five the family moved to New York so his father could take a job as a columnist
with the
New York Times. Geist was fascinated with his father's
work. In a time when there was no social media at hand, "He went out
and talked to
people and found stories," Geist said. "It's just unfathomable
to me now since everything is aggregated and passed around."
Geist grew up in New Jersey but went to college down
South, at Vanderbilt University in Nashville. Though he majored in
political
science and French, he was also interested in playing sports,
until he realized the difference in size and skill between high
school and college players. First he tried to walk on to the
freshman basketball team, but that didn't work out. "I had dreams
of playing football until I saw the Alabama football team get
off the bus. I decided I would go to the bar," he said.
But he did write for the school paper,
The Hustler, and delved into the riches of Nashville living, especially music scene, spanning blues, country, and rock. "My life grew
exponentially," he said. It was good "not to have the Northeast bubble mindset."
After college, Geist landed a job with CNN in Atlanta,
producing sports programs. "There's a lot to be said for going to
baseball
games for a living," he said. But he had a feeling for news,
too, which led him eventually to MSNBC, finding his way from
behind the camera to the role of on-air anchor, satirist, and
all-around affable sidekick. Now, in addition to his other projects,
including two books and the video blog Zeitgeist, he also fills in for
Matt Lauer on the
Today show and will be one of the anchors for NBC's
Olympics coverage. After that, he'll head to the presidential nominating
conventions
in Tampa and Charlotte. And after that, he'll get some sleep.