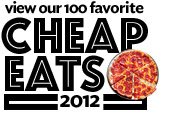 Jeff and Barbara Black's rollicking, bordello-chic bar/bocce court stays as packed as its downstairs sibling, the Southern-flavored Pearl Dive Oyster Palace.
The two share a kitchen and a chef—plus a selection of oysters—but there's little crossover between menus, and it's at Black Jack that you'll find such excellent bar shares as fries with a trio of dipping sauces and duck-confit-topped nachos. We follow those with a shrimp roll lightly bound with mayo or a showstopper of a BLT stacked with crisp bacon.
Pizzas with just-thin-enough crusts arrive topped with, say, a mix of grilled shrimp, roasted green chilies, and pepperjack. There are few bars where you'll snack better, but the brick walls and turned-up speakers mean you might have to forgo conversation to do it.
Also good: Mussels with garlic, shallots, and tomato; charcuterie plate; Swine Lovers pizza with salami, bacon, and coppa; shrimp po' boy; pecan and Key-lime pies.