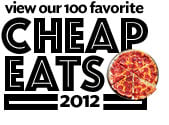 Expect the unexpected in the bar snacks at this laid-back, annex to the sleek, Modern American restaurant PS 7's. Order hot dogs and you get two excellent half-smokes smothered in white veal chili and grated cheddar. Sliders arrive stuffed with tuna tartare. And sweet-potato fries come not with ketchup but with a traditional ravigote sauce studded with capers.
Good happy-hour specials—discounted beer, wine, and snacks weeknights from 4 to 7, half-price burgers all night Monday—mean a post-work crush (the crowd usually thins as the night goes on). Popular cocktail maven Gina Chersevani has left, but much of her menu remains—though several once-great drinks on a recent evening tasted more of sugar than anything else.
Also good: Glazed sticky buns with pork confit; Chef's Choice burger with bacon, Gruyère, and a fried egg; Nutty Goat flatbread with walnut butter and goat and Gouda cheeses.