A guide to the newest places to eat and drink.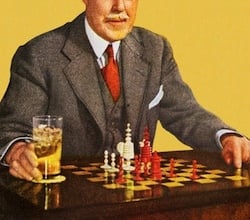 A "vintage game room with jukebox" reads the liquor license application affixed to storefront glass at 1737 Connecticut Avenue—a posting first eyeballed by the intrepid Prince of Petworth. "It harkens back to my childhood," says Washington native Mark Handwerger, owner of Bedrock Bars—parent group to Mackey's, Rocket Bar, and Atomic Billiards. He's partnering with Beth Lindsay—last at Rocket Bar on Seventh Street, Northwest—who will handle operations for the tavern.
Handwerger says he's spent the past few months indulging his nostalgia into the wee hours on eBay, buying up old Monopoly sets, Parcheesis, and a 6 Million Dollar Man game from the '70s. Board Room patrons can choose between 15 to 20 readily available games or reserve-in-advance vintage sets—a 1954 edition of Clue among them. The Board Room's website will be set up to allow guests to claim their games online.
The space that formerly held Anna Maria's—you'll remember the Italian restaurant's distinct signage featuring an alluring lady with a bouffant-style hairdo—was completely gutted to make way for the new bar. The 4,200-square-foot space includes an upstairs mezzanine, which will be reservable for events—Handwerger believes his bar will be popular for wedding showers and bachelor/bachelorette parties. They can play Bride Bingo and Mystery Date and order food from vendors of their choice or let the Board Room staff manage the catering for them. Handwerger didn't have a lot of specifics about beer and cocktails but said to expect something more upscale than what you see at some of his other bars–there will be craft beers, wines available by the bottle and glass, and a cocktail list with libations named for board games. "We hope people will linger," says Handwerger.
The Board Room should be up and running this August. It will be open every day beginning in the early evening.