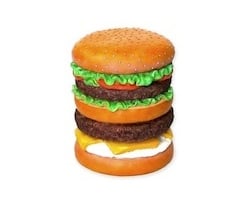 Some people just like hamburgers. Others take that adoration to the next level. If you're one of those who'd like to put burgers in your mouth and your home, check out the options for creating a last relationship with the sandwich you cherish most.
Made legendary in the film Juno, a cheeseburger phone is a decoration that not only declares your love for burgers, it's also a monument to the great twee-athon of the latter aughts.
Welcome to the world where lettuce smells like bacon and your fingers smell like French bread.
Unfortunate name, nice accent piece.
Your hamster will probably never know the joys of biting into a juicy burger, an experience that would likely kill him. Give him the next best thing–which is obviously this meat cave.
The decorative equivalent of a deconstructed burger.
Your neighbors will think you're eating White Castle burgers, and they'll be so jealous. Then you'll tell them it's just a candle you bought that smells like White Castle, and they'll think you're crazy.