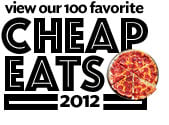 Walking into this storefront, you might think it's a Quiznos knockoff. Then you catch a whiff of baking bread —that wonderful, yeasty aroma that says the guy behind the counter has mastered his craft. That would be Gerald Koh, who spent years at downtown DC's Breadline.
His sandwiches recall the glory days of that acclaimed cafe, particularly a combination of Brie, caramelized onions, and sun-dried-tomato pesto on a light baguette and a ciabatta with juicy London broil and provolone. Soups reflect real care, and grilled-vegetable and lentil salads are more than afterthoughts. Koh has even reprised Breadline's mascarpone-filled chocolate cookies—but good luck getting them after 2 pm.
Also good: Tomato-saffron and chicken-noodle soups; Genoa (Genoa salami, soppresatta, and provolone) and grilled-veggie sandwiches.