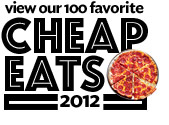 Bethesda restaurateur Mark Bucher proves there are many ways to satisfy a burger craving at his rapidly growing chain. Reading the chalkboard menu can make for a tough call: Go for the classic cheddar burger or take a chance on one of the out-there monthly specials, which have included a standout Buffalo-style burger smothered in hot sauce and blue cheese? Whatever you decide, expect a fat, grilled dry-aged beef burger that's messy in the best way. Thick shakes and a Stones-and-Springsteen soundtrack boost the nostalgic fun.
Also good: Cheddar-topped sliders; lobster sliders; Wellington burger with roasted mushrooms, truffles, and blue cheese; sweet-potato fries.
Multiple area locations; bgrtheburgerjoint.com.