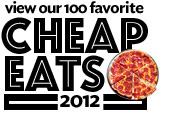 Weather permitting, enjoy the simple snacks at this Eastern
European eatery outside, where umbrella-topped tables on a brick patio
create a rustic charm you might not expect at a fast-casual restaurant in
Rosslyn. Salads of shredded carrot with garlic and chili peppers and of
beet with garlic and walnut are fresh and crunchy but grow tiresome on
their own—order both to share along with the tasty "original" salad:
lightly dressed chicken with egg, dill pickle, and carrots. Savory
pastries are great for passing around; our favorites are the vegetable
rasstegai (an open-topped hand pie) and a square samsa
filled with chicken and mushrooms.
Also good: Cabbage rolls packed with ground
beef and rice; a tiered napoleon cake with buttercream (try it with
coffee).