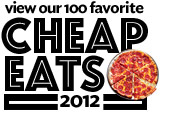 James Alefantis's cavernous pizzeria is part gathering place
for Cleveland Park intellectuals with toddlers in tow and part hangout for
scruffy twentysomethings knocking back cans of DC Brau. The biggest draw?
The misshapen, blistery-crusted pies that come out of the wood oven. We're
partial to the Yalie, scattered with fresh clams and spritzed with lemon,
and the Hottie, with jalapeños and pepperoni. We always start with an
order of fall-off-the-bone dry-rub wings served with creamy horseradish
sauce. Outside the Buffalo-and-blue-cheese category, they're some of the
best in town.
Also good: Meatballs in red sauce; Smoky pizza
with smoked mushrooms, smoked mozzarella, and bacon; calzone with roast
pork, provolone, and broccoli rabe; salted-caramel/praline ice cream;
tin-roof sundae.