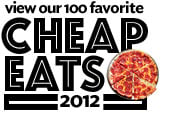 It may be billed as Balkan and German, but the cuisine at this
homey Euro-style place comes by way of Bosnia, from which owners Ivica and
Amela Svalina hail.
Try the ćevapčići—stubby beef sausages—solo or tucked
into a round of the soft, crusty bread that's baked daily. Ajvar,
a smoky relish of red pepper, eggplant, and garlic, adds a fiery zip,
while sour cream counters the heat. Call a day in advance and you can
place an order for a half dozen or more borek, made with
hand-rolled phyllo dough and such fillings as feta or spinach.
On the German side, there are veal dishes including a nicely
breaded Wiener schnitzel and jaeger schnitzel blanketed with
mushroom-cream sauce.
Also good: Grilled whole trout with lemon and
garlic; Bosnian burger marinated in red-onion juice; kempika,
pastry layered with a panna-cotta-like cream; Turkish coffee made the
traditional way, in a long-handled copper carafe over a fire.