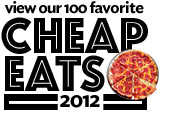 We've never liked a brown-bag lunch as much as the one at
Cathal and Meshelle Armstrong's Irish-style "chipper." Whether you're
taking your meal home or to one of the glossy wooden tables, that bag
serves as your plate. Inside might be a mess of thick-cut fries—among the
many dips, we like the creamy pink Marie Rose and the caper-studded Kitty
O'Shea sauces—plus a piece of beautifully fried, golden-battered cod. On
the side, there's good coleslaw, Brit imports including tangy Batchelors
baked beans, and Guinness on draft.
Also good: Codwich, a hot fried-cod sandwich
with lettuce and tartar sauce; fried grouper; sugar-dusted fried dough
balls.