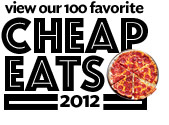 One of the first things you see in this sunny slip of a
pizzeria is a fire blazing in the yellow-tiled oven. That's where the
magic happens, whether it's turning out a textbook Margherita pizza or a
pie created with heat-seekers in mind featuring pepperoni, garlic, olives,
and hot peppers. Pizzas are the stars of the show, but small plates such
as zesty meatballs on slider buns, fried fingerlings with aïoli, and
deviled eggs make nice opening acts. At prime time, service is bustling
and the place is loud with kids clamoring for the cupcake tree in the back
of the restaurant. A selection of pizza-friendly wines takes the edge
off.
Also good: Arugula salad with pears and
Gorgonzola; meatball sub; linguine with clams; white clam pizza; Salsiccia
pizza with sausage, pepperoni, and portobellos.