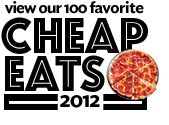 This mottled-brick sandwich shop—hidden behind consulting chef
Dan O'Brien's Seasonal Pantry market—is a nice change of pace from the
usual sub chains and cookie-cutter delis that dominate the workday lunch
scene. The kitchen, outfitted with a grill, takes inspiration from around
the globe, crafting hefty sandwiches inspired by cities from Madrid to
Tehran.
We go for the Kingston, fiery jerk chicken cooled with
pineapple salsa and garlic mayo, and the Havana, which boasts excellent
roast pork. There's only a handful of seats at a communal table, so if
you're not heading back to the office just yet, grab a patch of grass in
nearby Logan Circle.
Also good:Istanbul sandwich with a ground
lamb-and-beef skewer and tzatziki; Saigon, a bánh mì
with chicken-liver mousse and pork terrine; hummus.