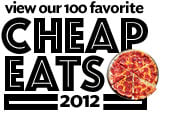 This tile-lined storefront specializes in hearty all-day
breakfasts, Colombian style. The bandeja paisa is the grand slam
of the bunch—packing onto the plate a slab of grilled steak along with
pork sausage, cracklings, rice, beans, avocado, a cheese arepa,
sweet plantains, and a fried egg. In the calentado, a fried egg
tops white rice clinging to red beans—it's a simple, homey pleasure, as is
the carrot-and-pea-studded arroz con pollo. An ensalada de
aguacate is unremarkable on its own, but the raw vegetables balance
out the stick-to-your-bones stuff.
Also good: Cheese-stuffed sweet plantain;
arepa con queso, fried corn cakes with mozzarella; chicken and
pork tamales.