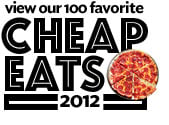 The culinary traditions of Venezuela, Bolivia, and Chile
dominate this down-to-earth restaurant next to a divey motel. The popular
arepas are made with English-muffin-size rounds of cornmeal
bread, fried or grilled and piled high with meats and veggies. We love the
Reina stuffed with chicken salad and avocado and the Sifrina, topped with
shredded cheese.
A light meal can be made of black-bean soup and a tropical
salad with mango, papaya, and grilled chicken; bigger appetites call for
sandwiches such as the Diputado, with sirloin and a fried egg.
Also good: "JP's favorite" arepa,
with sirloin, onion, and cilantro; corn salad; avocado salad with grilled
chicken.