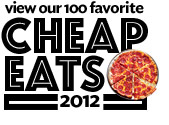 You don't expect to find beauty when you're hunting for bargain
meals, but this strip-mall Peruvian is among the most aesthetically
pleasing restaurants in its class. Witness the tiradito—strips of
lime-marinated sea bass fanned out like flower petals atop a brilliant
yellow-pepper sauce.
Nothing else at Emma Perez's place is quite so gorgeous, but
the power and delicacy of the cooking across the board are stunning. The
strong pisco sours and, for dessert, melt-in-your-mouth
alfajoresenhance the experience. And you still won't pay more
than you would for a comparable night at TGI Friday's.
Also good: Ceviche mixto; chupe de
camarones, a creamy shrimp soup; anticuchos,grilled beef
hearts; aji gallina, shredded chicken in a sauce of garlic, wine,
and bread; fried whole trout.