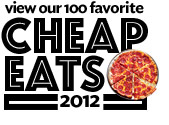 The time to come is Friday or Saturday night, when this
roadhouse is at full tilt—jukebox pumping out Latin hits, bowls of seafood
soup sailing through the dining room, tablefuls of Spanish-speaking
patrons blowing off steam over Negra Modelo. But the cooking's the
draw.
The owners hail from Puebla, and the flavors are solidly Mex,
not Tex. The renditions of chiles rellenos, chicken mole, and
tacos resonate as powerfully as the music—all the more if you're
accustomed to cheese-blanketed dishes that taste virtually
interchangeable.
Also good: Huevos rancheros; guacamole;
chilaquiles rojo.