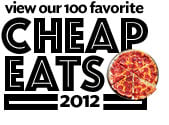 At first glance, this walkup across from Howard University
looks like a spot you'd pop into for drinks and snacks before heading
elsewhere for dinner; even the sopes resemble cocktail-party
nibbles. But stick around—the cooking has a depth and complexity that
blitzes its tepid happy-hour competition.
The beans and sauces are made from scratch, with spices that
have been toasted and ground the old-fashioned way. The pork sopes al
pastor with lard-cooked beans are uncommonly intricate. And many of
the appetizers are hard to resist—fries with Cotija cheese and cilantro,
the lightest chips we've found in DC, and a quesadilla with
chickpea-poblano purée.
Also good: Mushroom-and-spinach tacos; tacos
al pastor.