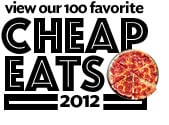 The pizzas here aren't designed to make you swoon over the
owner's ability to procure spectacular ingredients or educate you about
the importance of provenance. They're humble, served alongside a slate of
Salvadoran specialties in a scruffy storefront with linoleum floors. But
the wood-burning oven is testament to the fact that owners José and Reyna
Velasquez—who learned their craft at Pizzeria Paradiso—are passionate
about their pies.
The crusts are excellent canvases for the untrendy
toppings—pepperoni, salami, potato—strewn liberally atop them. The Diavola
(with jalapeños, sweet peppers, and sausage) and the Puttanesca (with
garlic, anchovies, and chili flakes) deliver the simple satisfactions of
chain pizzas but with more finesse. And more soul.
Also good: Moderna and Explosive pizzas; carne
deshilada; pupusas.