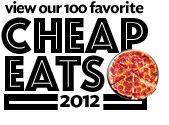 Consistently well-wrought pies, salads, and pastas make this
local chain a favorite place to pop into for a last-minute dinner, but New
Haven specialties in particular—garlicky white pizza with clams, tangy
tomato pie drizzled with sweet olive oil—show off the excellent
ingredients and detail-focused kitchen. Try terrific house-made meatballs
on a cheese pizza or alongside caramelized onions and roasted and cherry
peppers on the Boola Boola. Simple salads—we like the house, with toasted
walnuts and Gorgonzola—and seasonal antipasti round out the
meal.
Also good: Crisp goat-cheese salad; Staven
pizza, with pepperoni, sausage, garlic, and hot peppers; Sorbillo's
Original, stuffed with cured meats and ricotta; sorbets.