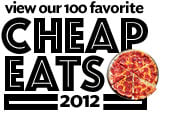 Yes, it's an hour's drive from down-town DC. And yes, it's in a
gas station. But we can't stop thinking about our meals here.
Owner Rodrigo Albarran-Torres is particular with his sourcing
(you'd swear his corn tortillas were homemade), and his sauces owe their
complexity to being made the time-honored way—from scratch. Tacos,
sopes, posoles, huaraches, chiles rellenos—it's like a quick trip
to the streets of Mexico City. Would it be nice to sit on something other
than a stool? Sure. But that's also part of the charm. And a small price
to pay for flavors this deep and true.
Also good: Chilaquiles, a tortilla
casserole with red sauce and crema; chorizo, cochinita,
and carnitas tacos; chicken-Milanese sandwich.