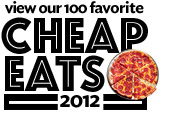 In his chain burger joint, Danny Meyer, the New York restaurateur behind such many-starred restaurants as Eleven Madison Park and Gramercy Tavern, marries the best parts of fast food—a kitchen that works at McDonald's-like speed, greasy-good paper-wrapped burgers—with thoughtful ingredients such as hand-ground beef and Rick's Picks relish.
The star of the menu is the Shack Burger, a skinny patty on a potato roll stacked with lettuce, tomato, American cheese, and creamy ShackSauce. We skip the standard-issue crinkle-cut fries but rarely leave without a Concrete—super-thick frozen custard with such seasonal mix-ins as pineapple caramel with coconut.
Also good: Bird Dog, a chicken-sage-and-apple sausage; Chicago-style hot dog; Majority Whip Concrete with bits of crepe and seasonal fruit.