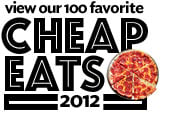 There are fancy taco trucks, upscale taquerias serving fillings
of octopus and foie gras, and chefs using tacos as a delivery system for
their latest wild ideas. But there's nothing trendy about this joint in
Little Mexico, where the taxidermy on the walls is without irony and the
20 fillings include pig lips. Vegetarians, be forewarned.
Food adventurers are likely to get the most out of the place,
but the al pastor, with juicy carved lamb and slices of
pineapple, the barbacoa (shredded beef), and the chorizo don't
require any courage and deliver the same bold flavors as the pig lips.
Make use of the fantastic and fiery salsas, and don't neglect the
wonderful pickled onions and jalapeños, which cut the richness of the
meats.
Also good: Pork-leg, tongue, and
carnitas tacos.