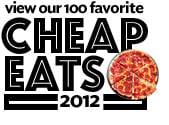 Fear not the words "Buffalo-chicken pizza." At his Capitol Hill
pie place, fedora-topped chef Spike Mendelsohn pairs two unlikely
fast-food fixtures to create an indulgent snack you'll be thinking about
long after you've dabbed the last bit of orange hot sauce from your lips.
A solid, puffy crust serves as a canvas for Mendelsohn, a Top
Chef alum. He piles on pork barbecue and fried onions or the makings
of a Greek salad or wild mushrooms doused in truffle oil and sprinkled
with thyme. One trick we've learned: Picking the slice you think you'll
like the least can be the fastest way to find a new favorite.
Also good: Sausage-and-peppers pie; pepperoni
pie with fresh oregano; pine-apple soda.