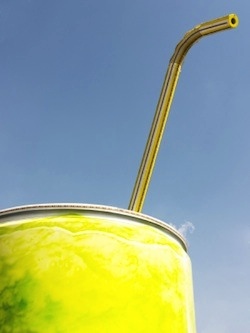 Todd Kliman, food and wine editor
• From the Chronicle of Higher Education, a thoughtful inquiry into our love of "crispy." Why Humans Are Crazy for Crispy
• Eric Schlosser on our Fast Food Nation, ten years later. Thumbnail: still really, really bad, though a generation of food writers and hand-wringers has emerged to write and hand-wring and agitate for change. Of which there is some. Only some. Still a Fast-Food Nation: Eric Schlosser Reflects on 10 Years Later
• "Pink slime" is pretty awful. But hey, that's not even the worst of what goes into processed meat. Try ammonium hydroxide! Which, yes, you will find in that jug of household cleaner under the sink. 'Pink slime' is the tip of the iceberg: Look what else is in industrial meat
Ann Limpert, food and wine editor
• Francis Lam has a fascinating exploration of American chefs excelling with cuisines they have no ethnic ties to. "My greatest gift is not having a Mexican grandmother," Chicago chef Rick Bayless says. "If you grew up with this food, you'll defend to the death the way your family makes a dish." Masters of a Cuisine by Calling, not Roots
• San Juan, Savannah, and Portland, Maine all make this list of America's top cities for burgers, but not DC. What's up with that, Travel + Leisure? America's Best Burger Cities 2012
• Meanwhile, HuffPo has a gold-leaf-gilded, foie-gras-stuffed roundup of the world's priciest burgers, including a New York food truck's $666 "douche burger" (mmm) and Hubert Keller's $5000 FleurBurger 5000, which at least comes with a bottle of '95 Petrus. The World's Most Expensive Hamburgers
Tanya Pai, deputy managing editor
• Have you heard? It's National Doughnut Day. Turns out Carol Ross Joynt isn't the only one who likes her pastries topped with pork products; in China, Dunkin Donuts sells its holey delights topped with the slightly ominous-sounding "pork floss." The Most Unusual Dunkin Donuts From Around the World
• Too sad and gross to even make a joke about: An 18-year-old was arrested in Arizona for attempting to trade sex for McDonald's. No, really. Not even going to joke about it. Faelyn Ritz Accused Of Child Prostitution and Offering Sex for McDonald's Meal in Arizona
• And on a much, much lighter note, cows just wanna have fun! Which is probably why they crashed a backyard party in Massachusetts and helped themselves to a few brewskis. No word on how their flip cup game is, though. Cows crash party, help themselves to beer
Jessica Voelker, online dining editor
• I understand the backlash against preciousness and elitism in the craft cocktail world–and it's my preference to drink in a place where customers—all customers—are treated with the same respect as the drinks. But where is this place where there are enough serious craft cocktail bars staffed by enough serious-minded bartenders that it's become a problem for people just looking to go out and have fun at a plain old bar? Because frankly, I'd like to visit. Are Elitist Cocktails Wrecking Our Bars?
• The word mixologist is silly. Thanks for proving the point, this.
• Oklahoma wants to patent a steak called the Vegas Strip (get it?). It won't say much more. Can You Patent a Steak?
Sophie Gilbert, associate arts editor
• Mayor Bloomberg's proposed ban on the sale of sugary sodas over 16 ounces has people getting positively apoplectic over nanny states and the "freedom" to drink their weight in carbonated beverages every day. To which I say, read this epic Gawker takedown and weep. Quit Complaining About Mayor Bloomberg's Soda Ban, Fatsos
• I would appreciate this AP story on the nuances of restaurant music a lot more if it got the name of epic British electronica band Hot Chip (no "s") right. Still, it's worth a read. The sound of great food _ curated restaurant music
• Sorry, corn refiners of America: The FDA might be weaker than a kitten in a dog fight, but it still won't let you rename high-fructose corn syrup "corn sugar." FDA Rules Corn Syrup Can't Change Its Name to Corn Sugar
Anna Spiegel, assistant food and wine editor
• The Atlantic pens an obit to "artisanal." Are distant cousins "reclaimed" and "maple-bacon" next? Artisanal, Reluctant Branding Pioneer, Dies at Age 474
• These computer waiters may be more efficient than your average server, but do they have the appropriate pieces of flair? The Wall Street Journal investigates: Screens Get a Place at the Table
• And because it's Friday. Drive-Thru Dining: Eleven Videos of Cars Crashing Into Restaurants