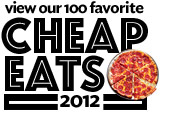 Chicken is often an afterthought at kebab houses, but this
brightly lit halal spot turns out tender, charcoal-kissed poultry—on or
off the bone. Here it's a better choice than lamb, which can be on the
greasy side, or kofta (spiced ground beef), which tends to be
dry.
Kebabs come in sandwiches or as entrées, the latter including
very well-prepared sides: crunchy lettuce smothered in yogurt; a slab of
chewy naan; a comforting bowl of chickpea stew. Don't miss the
aushak—a small-plates-size portion of delicate dumplings stuffed
with leeks and topped with yogurt and meat sauce.
Also good: Yogurt with cucumbers and mint;
sambosa goshtee, fried pastry stuffed with meat, chickpeas, and
herbs.