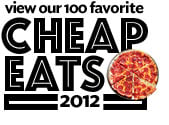 Sleek and chic, this glass-wrapped Turkish spot supports the
notion that style and value can coexist. An expanded dining room—with
Brazilian-cherry floors and Turkish tile—makes it easier to get a table on
weekend nights. And newcomers on the menu of mezze and bigger plates widen
the culinary possibilities.
Among them is a lineup of vegetable starters cooked with plenty
of olive oil—okra flecked with tomato and onion is especially good.
Another addition, hunkar beyendi marries smoky eggplant purée
with tender lamb. Don't overlook old favorites such as feta-filled
sigara borek, the eggplant-and-tomato dish called imam
bayaldi, and Iskender kebab, a mash-up of pita, tomato,
yogurt, and doner kebab.
Also good: Pide, a pizza-like dish
with feta, parsley, and a fried egg in boat-shaped dough; whole lamb from
the wood-fired oven (Thursday only); the lamb-and-hot-pepper pie known as
lamejun; kazan dibi, a caramelized rice pudding.