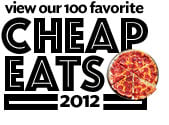 Not even the food of the Middle East is enough to bring people
together; disagreements over the provenance of many dishes—as well as
which people's version is better—are legion. But in Falls Church, such
zesty staples of the Mideast table as baba ghanoush, kibbe, and
the fava-bean dish called foul are free of political baggage and
can be appreciated purely as culinary art.
The kitchen works with a light touch—a must when it comes to
such hearty fare as braised lamb shanks and lamb makluba (an
upside-down rice casserole). The mostly Lebanese desserts, displayed under
a heat lamp near the cash register, are among the best reasons to visit; a
few bites of baklava or basboosa, a sticky semolina pastry, with
a cup of mint tea are a wonderfully civilized ending.
Also good: Veggie combo platter; harira,
a Moroccan lentil soup; chicken shawarma; kinafa, a pastry
made with vermicelli threads.