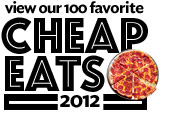 What this no-frills Afghan eatery lacks in decor (there's a
grungy aquarium near the front and a bright countertop straight out of
The Brady Bunch) it makes up for in homey dishes such as
qabili palow, in which chunks of tender meat—we like the lamb and
the chicken—are buried beneath brown rice, carrots, and plump
raisins.
Starters include an excellent version of aushak, a
ravioli-like dumpling filled with leeks, and fresh stuffed pastries called
sambosas. Pillowy, made-to-order naan exceeds
expectations, as do the supersized hunks of flaky, Greek-style baklava
stacked in a cake stand by the register.
Also good: Mantu dumplings filled
with meat; broiled eggplant with yogurt sauce; curried lentil soup; lamb
kebab.