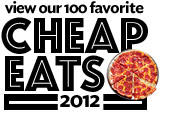 A Lebanese restaurant with cheeseburgers, steaks, and pizza?
Rest easy. Owner Kheder Rababeh knows his stuff, particularly meat—he owns
a slaughterhouse in Warrenton, from which many of the cuts at the
restaurant come, and he still does all his own butchering. Almost anything
with lamb is superb, from a shawarma plate with fork-tender,
garlicky meat, sumac-spiced onions, and crunchy pickles to a bowl of
fateh, its slow-simmered hunks of lamb bathed in a tangy yogurt
sauce.
There's more than meat, though—the kitchen sends out some of
the best baba ghanoush and hummus around, and the foul—a stew of
long-cooked fava beans, garlic, and onions—is about as luxurious as veggie
cooking gets.
Also good: Hummus with meat; grape leaves;
spicy sausage.