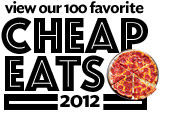 On hearing the name, some people assume a waffle house has
arrived in their midst; others are reminded of the word "awful." Awful
this quick-serve cafe assuredly is not. Owner/chef Alberto Sissi's
shawarma is so good—dripping with juice and aromatic with garlic,
lemon, and herbs—that an appropriate name would be
Shawawesome.
Sissi apprenticed at José Andrés's Zaytinya, and the
do-it-yourself approach (he even makes the garlic sauce) and precision in
many of the dishes can be traced to his stint there. This is about as
soulful as simple food gets. We could make a meal of the fabulous hummus,
whipped to an airy fluff and bright with lemon.
Also good: Baba ghanoush; tabbouleh;
koftaplatter with ground-beef-and-lamb skewers.