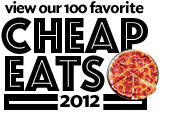 A bustling cafe in one of DC's most fashionable neighborhoods,
with outdoor seating under umbrellas, excellent people-watching, and
well-prepared food? You might assume we were talking about some slick new
bistro where dinner for two runs $150. Well, you can eat for a third of
that at this Greek charmer in Dupont Circle, which makes it an ideal
pre-theater destination—some of the money you save on dinner can be spent
on post-theater dessert somewhere else.
The dishes we order most often are the ones that made us fall
in love with the place nearly 30 years ago: the salty salmon-roe mousse
known as taramasalata;tender chickpeas dressed with garlic and
lemon; light and crunchy spanakopita; and the meatballs called
keftethes, zesty with parsley and onion and lightly charred on
the grill.
Also good: Lamb-and-beef gyro; hummus;
skordalia, a dip of potato, garlic, and olive oil.