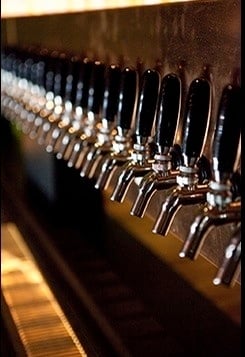 Even if you were unable to score a spot at Savor—the all-important craft beer happening that takes places Friday and Saturday at the National Building Museum, there are still a number of opportunities to sample rare brews and hang out with beermakers in town for the occasion.
One of the coolest beer-related things happening this week is that we're going to get our first taste of the brews from Bluejacket—the forthcoming Navy Yard brewery from the Neighborhood Restaurant Group. On Thursday beginning at 6 PM, ChurchKey suds sage Greg Engert and Bluejacket brewer Megan Parisi will unveil a collaboration with Cigar City and Funky Buddha. The Miami-brewed beer, which incorporates flavors from movie snacks–caramel, Raisinettes, etc.—will be available in four-ounce and full-size pours.
Other things we're especially excited about at Churchkey this week:
Tonight, California company Sierra Nevada has commandeered every single tap line at the 14th Street bar, reportedly a record. That's 55 Sierras, for those counting. Frederick brewery Flying Dog will be pouring at least 25 beers on draft and cask on Tuesday beginning at 6—expect some Washington debuts in the bunch. On Wednesday evening, try beers from the great Bend, Oregon brewery Deschutes.
NRG's Virginia suds spots—Rustico Alexandria and Rustico Ballston—are also savoring up a storm. Head to Ballston on Friday at 4, where Engert and Parisi will be showing off a second Bluejacket beer, Black Berliner Techno Weiss. It's a wheat ale collaboration with Jason Oliver, brewer at Virginia-based Devils Backbone.
In Alexandria, nearby brewery Port City will debut its bubbles-boasting Downright Pilsner! at 6 PM on Wednesday. You can try it on tap and also in "kellerbier" form—unfiltered and naturally carbonated.
Thursday, sample selections from Kansas City brewery Boulevard—newly available in NOVA—at both Rustico locations.
Over at Adams Morgan bar Black Squirrel, there's a launch party on Friday for Devils Backbone to celebrate its DC debut. That starts at 5 PM.
Also at Black Squirrel:
On Wednesday, a homebrewer Q&A happens at 6:30, and the taproom will be pouring Churchill barleywine, a sought-after collab between the aforementioned Cigar City and Swamp Head, another Florida brewery.
Thursday, wash down half-price burgers with beers from Mother Earth in North Carolina, maker of brews like Weeping Willow Wit and Second Wind pale ale. Enjoy.