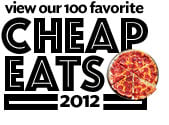 Few things are more perfect than convening a big group for a lingering dim sum on the weekend. It's cheap enough and varied enough to be a perfect workaday treat, too, though few places bother. So we're thankful these northern-style cafes make it their business to serve small, full-flavored plates seven days a week. Meats and starches predominate—a bowl of chewy noodles (order them with peanut sauce or topped with braised pork), pork-filled wontons doused in chili oil, baton-shaped crullers. Balance is the key to eating well, so add a few outliers, such as pickled cucumbers with garlic and chilies or an exquisite salad of shredded bean curd, cilantro, and roasted peanuts.
There's no beer or wine and it's cash only, but these impediments are more than made up for by a staff that's collectively as efficient as a short-order cook and as gracious as a Southern hostess.
Also good: Sesame biscuits filled with scrambled eggs (weekends only); thousand-layer pancake; shredded-pork-and-mustard-green noodle soup.