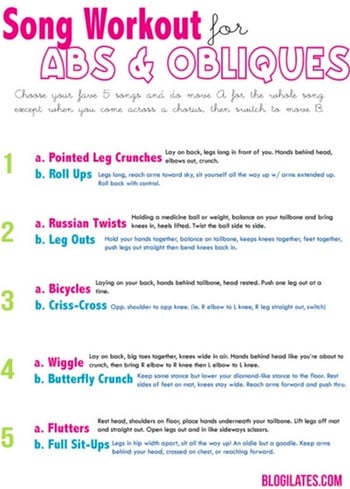 If you hesitated to hit the pool this weekend due to your less-than-stellar midsection, our new quickie workout find from Pinterest—the song workout for abs and obliques—may be a helpful starting point for toning up.
We chatted with Sports Club/LA trainer Alyssa Mouland to learn what muscles we would tone during this catchy workout and whether it's truly the best way to work up a sweat. Mouland was quick to point out that the song workout is not designed to be an overall body workout, but instead targets the rectus abdominis and obliques. She says these are the muscles people see as their "six-pack abs."
How to Perform the Workout
First choose your five favorite workout songs. We went for Katy Perry's "Firework," the Black Eyed Peas' "I Gotta Feeling," Maroon 5's "Moves Like Jagger," Florence and the Machine's "Dog Days Are Over," and Eminem's "Lose Yourself."
Each two-part exercise should be performed to one song. During the verses, perform exercise A. During the chorus, perform exercise B.
This is a fun and quick ab workout that can be done anywhere since it requires minimal equipment (a medicine ball or free weight is suggested for one exercise). Mouland says it may be a useful workout for "someone who is traveling or doesn't have to access to a gym or equipment." And it certainly will leave you with that good burning feeling in your core the next day, though Mouland says you should consider adding exercises to work the inner core muscles for an even better ab workout.
How to Cater the Workout to You
Though she likes the catchiness of working out to certain songs, Mouland advises that the high number of repetitions completed during this exercise might be excessive.
"If you're trying to build strength, keep your reps to between 3 and 6 per set, 8 to 12 if you want to build muscles, and 12 to 20 if you are looking for endurance. But there isn't really any need to go beyond 20 reps in any given set, and you'll end up doing much more in this workout," says Mouland.
For those looking for an even greater challenge, Mouland suggests adding weights to each repetition.
The Verdict
"Since you are lying down and isolating small muscle groups, this workout won't burn too many calories," says Mouland. "My best estimate would be 150 to 200 calories burned for a workout that takes about 15 minutes, depending on song length."
"I would recommend this workout to someone who is generally healthy, at an intermediate fitness level, and just wants something new to spice up their workout. This is not a workout for beginners or anyone with back or spinal issues," says Mouland.
And remember: Ab exercises alone won't get you that six-pack you desire. It will take healthy eating habits, additional exercises, and lots of water to get a bod like Matthew McConaughey's.