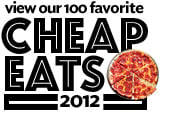 In an era when the "secret Chinese menu" is no longer a secret and duck tongues and lotus root have lost their status as exotica, not many diners express a preference for such safe fare as pepper steak. But dig into a bubbling pot of black-pepper beef at Full Key and you might change your mind. The original suddenly seems fresh and new.
The dining room feels cramped and there's no alcohol, but these have never been impediments for the restaurant's slew of regulars, who flock here for the Hong Kong-inspired menu of roast meats, casseroles, stir-fries, and noodle dishes. No table should go without a bowl of shrimp-dumpling soup—a meal in itself and a delicious reminder of the power of simple cooking.
Also good: Stir-fried eggplant and garlic; steamed Chinese broccoli; salt-and-pepper pork; Kingdom pork chop; roast duck.