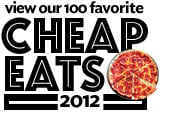 If you're looking to try dan-dan noodles—an oft-discussed dish among area Szechuan-cuisine fans—this dining room is a good place to do it. Chili-oil-doused noodles are topped with minced pork, scallions, and peppers for an excellent appetizer that belies its simple preparation.
Spice fans will find more to love in the fiery, cloud-like cubes of mapo tofu or the similar fish with tofu, but both tame and bold palates can enjoy the pungent green-onion pancake and pork-stuffed steamed dumplings. Sesame balls tend to divide loyalties—the sticky dessert is a love-it-or-hate-it sort of a dish.
Also good: Sliced pork with peppers; Kung Pao chicken; chicken with fried stuffed chilies.