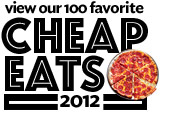 Take a cue from the name. Hand-made noodles are the thing here—in steaming bowls of soup or glistening heaps on platters. Still, this low-key restaurant, a favorite of Chinese expats, has other worthy Taiwanese and Szechuan plates, too—more than 100 of them.
Hot-and-sour soup gets depth and flavor from duck blood—it's not visible, but you can taste the difference. Szechuan wontons are delicious, meaty bundles with dabs of red chili oil. Mustard greens with soy beans make a cool, crunchy salad. And shredded pork with chives and ribbons of dried bean curd has the kind of textural appeal that makes you want to keep eating.
Good ways to sample the springy house-made noodles are in slow-roasted-beef soup and in an old-style Chinese comfort dish—a pan-fry with bean paste and ground pork.
Also good: Pot-sticker dumplings; dan-dan noodles; ginger-and-clam soup; salt-and-chili pork chops; chicken with Hainan-style rice.