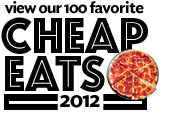 To maximize your experience at this comfortable lakefront restaurant, skip the middle of the menu, where chef/owner David Wong lists such Sino-American standbys as orange chicken and beef with broccoli. It's not where his heart is. Focus instead on the front and back panels, where you'll find authentic Szechuan and Cantonese specialties, among them chewy dan-dan noodles slicked with chili oil, complex casseroles (look for one that combines flounder, tofu, pork, and mushrooms), and several cumin-laced stir-fries, including a marvelous combination of sliced lamb, peppers, and onions.
It's also where you'll find dim sum, cooked to order and with great care: delicate har gow, rice paper-wrapped shrimp dumplings; rice-noodle crepes stuffed with plump shrimp; and char siu bao, pillowy browned buns of savory-sweet roast pork.
Also good: Diced chicken with chilies; tea-smoked duck; eggplant with shrimp paste.