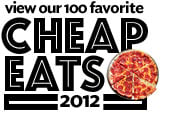 This restaurant, formerly Sichuan Pavilion, might just be Washington's best Szechuan spot. The crew of cooks demonstrates, in dish after dish, that the genre isn't merely palate-scorching; it can also be delicate and balanced (a platter of whole, fileted flounder draped with sour cabbage), pungent and comforting (smoky mapo tofu), or any combination thereof.
Szechuan devotees will rejoice at the opportunity to delve into the vast repertoire of a kitchen that's producing the most exciting chili-stoked cooking since the hallowed chef Peter Chang left town.
Also good: Seaweed noodles; spicy cucumbers; General Guan's chicken; lotus-root salad.