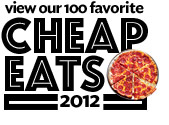 The black-and-red color scheme, stylish throw pillows, and wall sconces bring to mind one of those coolly minimalist hotel bars you find in DC's Penn Quarter or Georgetown. But the finesse of the cooking and the quality of the ingredients are the reasons to stick around. The kitchen can turn up the heat when it wants to but more often aims for balance, as in a stunning red curry of shrimp, toasted cashews, and soft hunks of butternut squash or in a plate of fried tofu tossed with chilies and basil, one of the best tofu dishes we've eaten.
The wine list might not be worthy of a three-star bistro, but for a neighborhood Thai joint it's better than it needs to be, with several fruity, full-bodied whites that stand up to the spice.
Also good: Spicy roast-duck salad; papaya salad; roast-duck curry; drunken noodles.