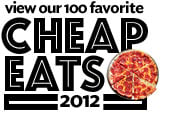 Fermented-tea-leaf salad may not sound like it'll become your new favorite food—but order it anyway. The multi-textured starter at this airy roadside restaurant is an excellent ambassador for the cuisine of Burma, where pickled tea (called laphet) is a national delicacy. Green-mango salad—with carrot, peanuts, red onion, and cilantro—is another crunchy concoction to dig into while soaking up the serene vibe in the dining room, decorated in gold-accented art from the motherland.
You'll find both starters on the Burmese menu—there's a Chinese list, too, but better to bypass its familiar dishes in favor of Myanmar favorites such as mohinga, a fragrant fish broth over a nest of skinny rice noodles.
Also good: Roti pancake with curry dipping sauce; spicy pork with pickled mango; chicken with potato curry; ginger salad.