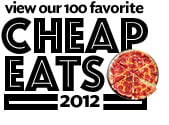 Falls Church has no shortage of good Vietnamese restaurants, so it's quite a feat that this place has been in the top tier for 19 years. The sunny-yellow dining room is elegant—flower arrangements look as if they belong at a wedding reception, not a place with $3.95 appetizers—and the sisters keep the service gracious and smooth.
The kitchen excels at many areas of the multifaceted cuisine. Shrimp toast—baguette slices smeared with shrimp paste—emerge hot from the fryer to be wrapped in lettuce leaves with a bouquet of fresh herbs. Complement that starter with darkly lacquered quail served with a wonderful dip of lime, salt, and pepper and a tangy, cilantro-strewn green-papaya salad. More substantial plates include bowls of cold vermicelli topped with spring rolls and grilled pork, clay pots holding caramelized fish or pork ribs, and stir-fries such as the salty-sweet "shaky" beef.
Also good: Spring rolls; hash of clams and pork; beef-stuffed grape leaves; lime soda; Vietnamese coffee.