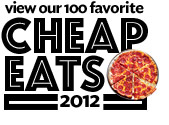 Country Thai cooking gets its due in this casually rustic dining room. The place minds the details: There are intricate hand-painted pillars, a beer roster that includes Fat Tire Amber Ale and Beerlao Dark, and a menu marrying the familiar with the lesser known.
Go for the unexpected with plates such as "tidbit," a crispy rice cake to swipe in warm coconut-and-pork dip. Country beef jerky is at once tender and chewy—it's been marinated, sun-dried, and flash-fried. Lychee dumplings contrast cool fruit with the crunch of minced pork, peanuts, and shallots. Among the larger plates, whole flounder is redolent of ginger and tamarind, and red-curry pork delivers a double whammy of five-spice powder and red chilies.
Also good: Lemongrass quail; pad Thai; nam kao tolay, a pork-filled deep-fried rice ball that's smashed and dressed with lime juice, peanuts, and chilies; coconut custard; mango with coconut sticky rice.