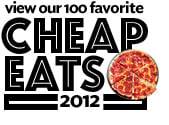 Vietnamese pho gets attention as a cure for everything from colds to hangovers, but there's also a case to be made for the bubbling cast-iron pots of the Korean soup known as soondubu served at these humble dining rooms. The red-pepper-based broth, which floats with creamy knobs of tofu, can be dressed a number of ways, but we like the oyster-and-mushroom version best. Crack the egg into the soup and break the yolk so it infuses the hot liquid.
The menu is succinct, but there are good renditions of bulgogi, sweetly glazed strips of barbecue beef, and galbi, on-the-bone hunks of barbecue short ribs. Food tends to show up minutes after you order, but be prepared to spend time flagging down your server for the check.
Also good: Pan-fried dumplings; kimchee, which comes with a gratis array of veggies called panchan; pork-and-kimchee pancake.