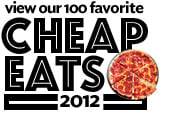 Two decades ago, before pho became a food-nerd favorite, these scruffy soup parlors taught us the basics—how to customize a bowl with torn bits of sawtooth herb and basil, a few handfuls of bean sprouts, and a drizzle of spicy Sriracha; the importance of holding chopsticks in one hand to twirl the noodles and a spoon in the other to slurp the soup; the benefit of adding fattier cuts of meat like tripe and soft tendon to bring extra richness to the oxtail-fortified, anise-scented broth.
These quick-serve shops remain the standard to this day—remarkable in a business predicated on change, especially considering the flood of competition. Here you're not just taking advantage of one of the rare meals under $10 in the area; you're paying homage to continuity.
Also good: Pho with fatty brisket, flank steak, or meatballs; Vietnamese coffee.
Langley Park, 301-434-7844; Rockville, 301-309-8873; Arlington, 703-525-7355; Falls Church, 703-204-1490; Herndon, 703-471-4115.