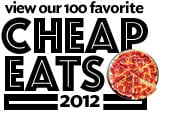 The latest arrival at the Eden Center—a.k.a. Little Vietnam—is so easy on the eyes you might think it cared only about style. But don't let the pressed-tin ceiling, Italian-leather chairs, and cement-tile floors fool you: The food's the thing. The menu stretches to more than 100 items; draws on classic dishes from northern, southern, and central Vietnam; and encompasses more categories than some cookbooks.
The kitchen occasionally stretches itself thin but largely succeeds in showing off the range and power of the regional cuisines. Lovers of the offbeat and authentic will find their tastes satisfied—the chicken-and-cabbage salad is rife with offal, the shredded-duck-and-lotus-blossom salad includes duck testicles—and so will a group not often appealed to in Vietnamese restaurants: vegetarians; the spicy lemongrass tofu is a marvel.
Rice makes a stellar appearance in one of the best dishes—the wrapper for grilled stuffed grape leaves, which are bundled into moistened, doily-like sheets along with pickled carrot and radish and sprigs of mint.
Also good: Bánh xèo, rice-flour crepes with pork and shrimp; grilled lemon chicken; spicy lemongrass ribs; escargots in coconut cream sauce.