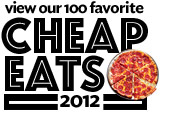 You can blow a hundred bucks on brunch for two at a hotel, or for about $20 you can swing by one of these no-frills southern Indian restaurants for their fantastic weekend buffet. Most cuisines suffer when dishes sit under heat lamps or atop warmers, but vegetarian-friendly southern Indian cooking lends itself well to the tray table. And these London imports have long delivered one of the most satisfying buffets in the area.
There's always a steady supply of dosas—the thin rice-flour crepes stuffed with potato and onion, to be torn apart and dipped into coconut chutney—and the curries are swapped out when they get low. Ordering off the menu has its own rewards—a wider selection, particularly of the curries and breads.
Also good: Malai kofta, vegetable dumplings in almond curry; bhangan bhartha, stewed eggplant; aloo gobi, spiced potatoes and cauliflower.