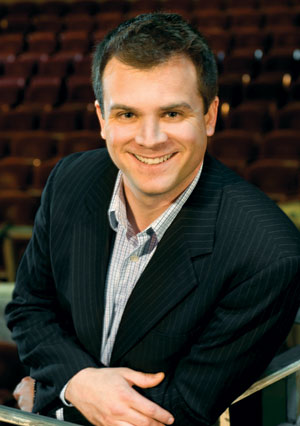 Since news broke last
week
that
Ryan Rilette would take over from
Blake Robison as producing artistic director
of Round House Theatre, life has been something of a whirlwind for
Rilette. The New Orleans
native and producing director of the Marin Theatre Company
starts his new job August 1; he's currently house-hunting with
his wife and two young daughters and preparing to tackle Round
House's 2012-13 season, which includes shows about war, weddings,
Sherlock Holmes, and unscrupulous real estate salesmen. Not to
mention the fact that today is his 39th birthday.
Rilette didn't offer any specific thoughts on the
upcoming season when he addressed a small group of actors, creatives,
and
community members at Round House this morning, but he did
mention he plans to make some changes at the theater's Bethesda
and Silver Spring venues. As current president of the National
New Play Network, he's a passionate advocate for contemporary
theater, and he sees Round House's Silver Spring space in
particular as the ideal incubator for new work. "The second I walked
in, I said, 'My God, this is my dream theater for new plays,'"
he says. "'It's the perfect size, it's flexible, and you can
do anything in there.'"
In Marin, Rilette oversaw collaborations between theaters, including a joint series of plays by
Tarell Alvin McCraney that he says "created a huge sense of excitement among audience members" and fostered a sense of community among actors.
Rilette mentioned a number of playwrights he'd like to do the same thing with at Round House, including
Sam Shepard,
Lynn Nottage, and
Bill Cain, whose
Nine Circles is being staged by Forum Theatre at Round House Silver Spring in 2013. Rilette mentioned he's interested in staging Cain's
newest play,
How to Write a New Book for the Bible, at the same time at Round House Bethesda, and possibly commissioning Cain to become an artist-in-residence, as well.
Rilette's other intention is to host more pre- and
post-show discussions so he and the rest of the Round House team can get
to know the audience better. "I believe in expanding the work
beyond the stage, providing as much context as possible in the
program and on the websites, and then keeping people back to
talk about the show afterward," he says, noting that Marin currently
hosts six talkbacks a week. And he addressed pricing, saying
that Round House currently isn't doing the best job of serving
everybody in the community, and that he hopes to simplify
pricing so everyone can know there's a ticket price available for
them.
Ultimately, Rilette says, he sees producing theater as
similar to being a drug dealer: "You have to offer the first taste
for free; get them hooked on it. Then you follow up and
continually raise the price. I'm going to ask you all to be dealers
for me and get people addicted to Round House."